OUTLANDER Season 2 FAQ
(last updated 4/10/2016)
GENERAL INFORMATION
Season 2 of OUTLANDER will be 13 episodes long, and will cover the events of Diana Gabaldon's novel DRAGONFLY IN AMBER (Book 2 of the OUTLANDER series).
They started filming Season 2 on May 7, 2015, and finished on February 27, 2016.
We still don't know if there will be a Season 3, although I personally am very optimistic. Keep your fingers crossed!
PREMIERE DATE
(updated 4/10/2016)
OUTLANDER Season 2 premiered on STARZ on
Saturday, April 9, 2016
.
Many countries have announced Season 2 premiere dates on April 10, including Canada, Australia, New Zealand, and the UK. Check with the TV network or other service showing OUTLANDER in your country for specific broadcast times.
SEASON 2 TRAILERS
Here's the
official Season 2 trailer
released by STARZ. I think it's terrific!
And here is the
latest trailer
, with a closer look at some of the Paris scenes.
EPISODE TITLES
(updated 4/10/2016)
Here are the Season 2 episode titles. I will add links to my recaps of each episode as the season progresses.
Episode 201: "Through a Glass, Darkly"
(premieres April 9, 2016)
Episode 202: "Not in Scotland Anymore" (premieres April 16, 2016)
Episode 203: "Useful Occupations and Deceptions" (premieres April 23, 2016)
Episode 204: "La Dame Blanche" (premieres April 30, 2016)
Episode 205: "Untimely Resurrection" (premieres May 7, 2016)
Episode 206: "Best Laid Schemes..." (premieres May 14, 2016)
Episode 207: "Faith" (premieres May 21, 2016)
Episode 208: "The Fox's Lair"
Episode 209: "Je Suis Prest"
Episode 210: "Prestonpans"
Episode 211: "Vengeance is Mine" (This is the episode Diana Gabaldon wrote)
Episode 212: "The Hail Mary"
Episode 213: "Dragonfly in Amber"
NEW CAST MEMBERS
Here are some of the new cast members we will get to know in Season 2. This isn't an exhaustive list, by any means!
Romann Berrux
will play young Fergus.
Robert Cavanah
will play Jamie's cousin, Jared Fraser.
Margaux Chatelier
will play Annalise de Marillac.
Rosie Day
will play Mary Hawkins.
Frances de la Tour
will play Mother Hildegarde. (And here is
Bouton
!)
Laurence Dobiesz
will play Alex Randall.
Andrew Gower
will play Charles Edward Stuart, otherwise known as Bonnie Prince Charlie.
Oscar Kennedy
will play the 16-year-old Lord John Grey, aka "William Grey".
Lionel Lingelser
will play King Louis XV of France.
Dominique Piñon
will play Master Raymond.
Clive Russell
will play Jamie's grandfather, Simon Fraser, Lord Lovat, aka the "Old Fox".
Claire Sermonne
will play Louise de Rohan.
Stanley Weber
will play the Comte St. Germain.
And last but definitely NOT least....
Richard Rankin
will play Roger Wakefield. Look
here
for more information.
Sophie Skelton
will play Brianna Randall. Look
here
for more information.
DIANA GABALDON WRITES AN EPISODE!
Diana Gabaldon, author of the OUTLANDER series, wrote the script for Episode 211, the third-to-last episode of Season 2. You can see her account of what it was like to write the script
here
.
Diana spent three weeks in Scotland in November 2015 on the set of OUTLANDER, watching the filming of her episode. Here's her detailed account of what it was like. (Hint: cold and wet, most of the time!)
Part 1
Part 2
Part 3
Part 4
We still have no confirmation of exactly what events will be covered in Episode 211, but I'm sure it will be wonderful!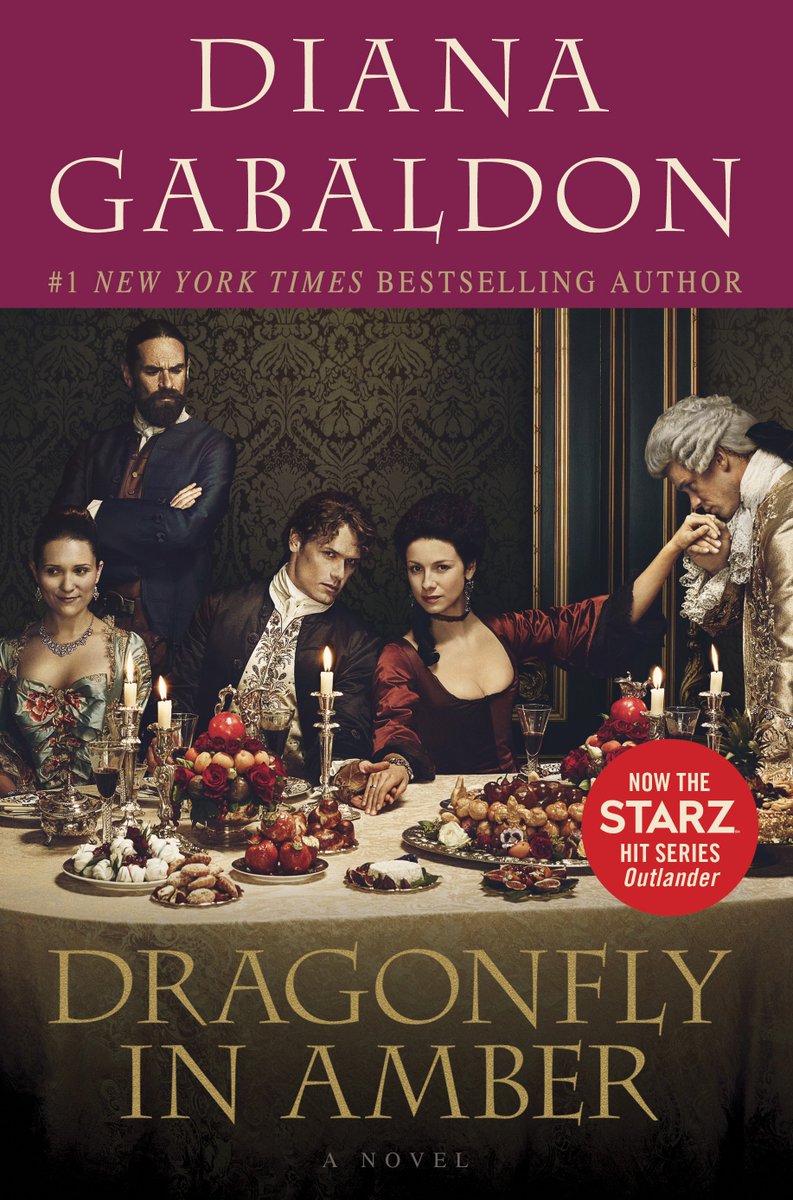 TV TIE-IN PAPERBACK
The TV tie-in paperback edition of Diana Gabaldon's
DRAGONFLY IN AMBER
was published on
March 8, 2016
. You can order from
Amazon
or
Barnes & Noble
. You can also order from the
Poisoned Pen bookstore
in Arizona if you want an autographed copy.
------------------
That's all the information I have right now. Please check back later for further updates!