Friday Fun Facts - 6/21/2013
Here are this week's Friday Fun Facts about Diana Gabaldon's books.
1) In honor of the summer solstice today (June 21), here's a look at one of the stone circles mentioned in the OUTLANDER books. This is
Corrimony Cairn
, in Inverness-shire, Scotland. Click on the photo for a bigger view. (Photo credit: heidi33 on Flickr.)
Jamie and Claire traveled to Corrimony Cairn to bury General Simon Fraser in AN ECHO IN THE BONE:
I had drawn closer, along with the other women, and found I was now standing within a foot or two of one of the standing stones that ringed the cairn. These were smaller than the stones on Craigh na Dun—no more than two or three feet high. Moved by sudden impulse, I reached out and touched it.

I hadn't expected anything to happen, and it very luckily didn't. Though had I suddenly vanished in the midst of the burial, it would have substantially enlivened the event.

(From AN ECHO IN THE BONE by Diana Gabaldon, Chapter 75, "Sic Transit Gloria Mundi". Copyright© 2009 by Diana Gabaldon. All rights reserved.)
I love this bit. It always makes me laugh, a little nervously. Can you imagine what would have happened if Claire really had vanished in the middle of a crowd of people like that? <g>
Here's another view of Corrimony Cairn. (Photo credit: hagfelsh, on Flickr.) According to
this site
,
The cairn is believed to have been built some 4000 years ago, and from faint traces found in 1952 is believed to have been the last resting place of a (presumably very high status) woman. No grave goods were found, though a single bone pin did emerge during the excavation. It is probable that the cairn was built first, with the entrance being blocked off after use. Some time - perhaps many generations - later, the stone circle was added around the outside.
Have any of you visited Corrimony Cairn? If so, I'd like to hear about it!
2)
Indigo
was one of the most commonly used dyes in the 18th century. It comes from a plant called
Indigofera tinctoria
, pictured above. Indigo dye has a very distinctive blue color, as you can see in the photo below.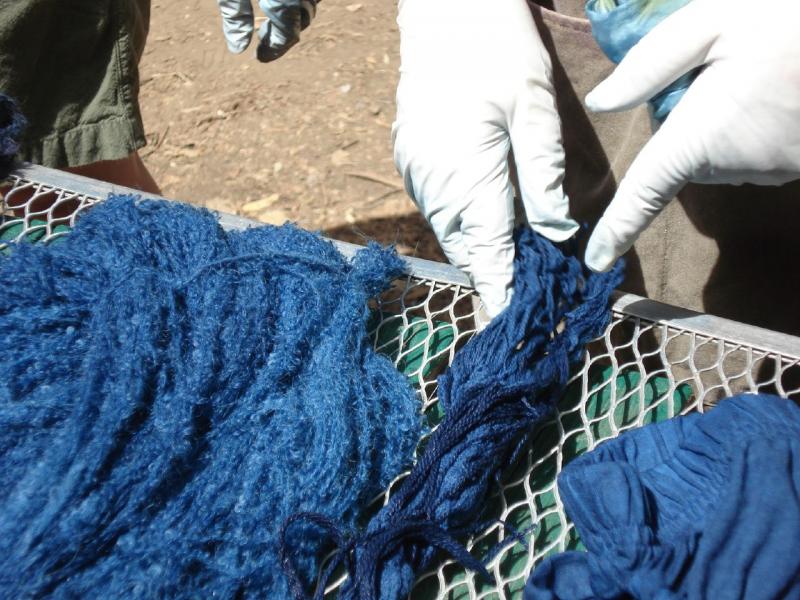 The women on Fraser's Ridge used indigo to dye their clothing. Remember this scene from THE FIERY CROSS?
Distracted by Jamie's dramatic arrival, I had left a vat full of dyeing to mind itself in the side yard--and the water had been low. Christ, if it boiled dry and burned the clothes...

The hot reek of urine and indigo hit me in the face as I shot out the door. In spite of that, I drew a deep breath of relief, as I saw Marsali, red in the face with the effort of levering a dripping mass from the pot with the big wooden clothes-fork. I went hastily to help her, snatching the steaming garments one by one from the sopping pile and flinging them onto the blackberry bushes to dry.

"Thank goodness," I said, waving my scalded fingers in the air to cool them. "I was afraid I'd ruined the lot."

"Weel, they'll be a bit dark, maybe." Marsali wiped a hand across her face, plastering back the fine blond strands that escaped from her kerch. "If the weather keeps fine, though, ye can leave them in the sun to fade."

(From THE FIERY CROSS by Diana Gabaldon, Chapter 91, "Domestic Management". Copyright© 2001 by Diana Gabaldon. All rights reserved.)
Here's a
video
demonstrating how to dye yarn with indigo. I think it's fascinating to watch the color change from green to blue as the indigo dye is exposed to the air.
According to
this site
, Eliza Lucas Pinckney of South Carolina was responsible for introducing indigo to the Colonies:
After her successful crop in 1744, Pinckney distributed indigo seeds to her neighbors, initiating an indigo revolution in South Carolina....By 1775, the southern colonies produced 1,122,200 pounds of indigo a year for export.
(Bonus Fun Fact: this is the same Mrs. Pinckney who started the silk industry in South Carolina. For more information, see my
FFF post from November 30, 2012
.)
The American "indigo boom" didn't last long. The ban on the export of goods to England during the Revolution cut off indigo planters' access to markets, and after the war, the British turned to India as their main source of indigo.
For more about indigo, look
here
. Thanks to Rosemary Hopkins for suggesting this very interesting topic!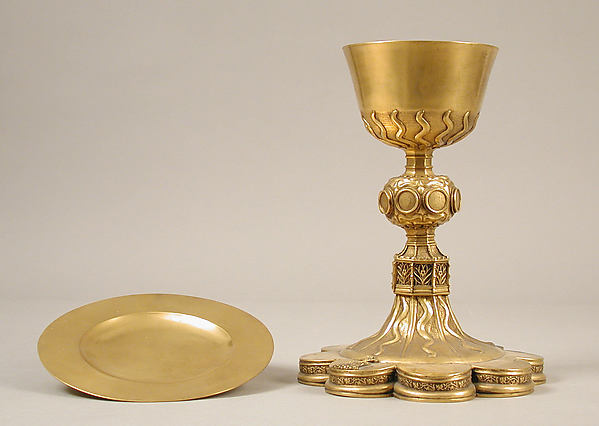 3) Here is an
example
of a gold chalice and paten from France, from the collection of the Metropolitan Museum of Art. Click on the photo for a bigger view. This may not be exactly the same as the one Michael asked the goldsmith to make in "The Space Between", but I think it's similar.
"A chalice," Murray was saying, the paper laid flat on the counter. From the corner of his eye, Rakoczy could see that it held a list of names. "It's a presentation to the chapel of des Anges, to be given in memory of my late father. A young cousin of mine has just entered the convent there as a postulant, " he explained. "So M. Fraser thought that the best place."

"An excellent choice." Rosenwald picked up the list. "And you wish all of these names inscribed?"

"Yes, if you can."

(From "The Space Between" by Diana Gabaldon, in A TRAIL OF FIRE. Copyright© 2012 by Diana Gabaldon. All rights reserved.)
Now imagine some future historian, like Roger, or even Frank, going through the archives of L'H
ôp
ital des Anges for evidence that might corroborate Claire's story, and stumbling across this chalice and paten engraved with the names of not only Claire and Jamie, but Jenny and Ian and their children (!)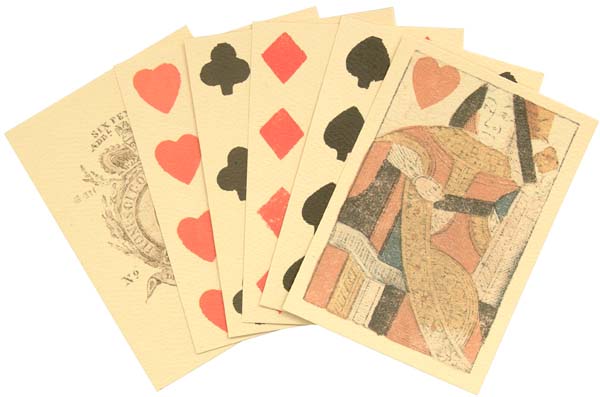 4)
Brag
(also known as three-card brag) is an 18th-century card game, one of the forerunners of poker. The photo shows a
reproduction of an English deck of cards
from the 18th century.
You may remember Claire playing brag with Sadie Ferguson in jail, in A BREATH OF SNOW AND ASHES:
"Any good at cards?"

"Loo or whist?" I asked warily.

"Know a game called brag?"

"No." Jamie and Brianna played it now and then, but I had never acquainted myself with the rules.

"That's all right; I'll teach you." Reaching under the mattress, she pulled out a rather limp deck of pasteboards and fanned them expertly, waving them gently under her nose as she smiled at me.

(From A BREATH OF SNOW AND ASHES by Diana Gabaldon, Chapter 90, "Forty-Six Beans to the Good". Copyright© 2005 by Diana Gabaldon. All rights reserved.)
Look
here
for a detailed description of the rules of brag. You can download a freeware brag program
here
.
5) This is an example of a
Mandarin
civil servant's rank badge, also known as a
Mandarin square
, from the Qing dynasty (1662-1911). (Photo from the
University of Pennsylvania Museum of Art
. Click on the photo for a bigger view.) This particular badge belonged to a civil servant of the second rank, like Yi Tien Cho (aka Mr. Willoughby).
"I was a Mandarin," Mr. Willoughby began, in Jamie's voice, "a Mandarin of letters, one gifted in composition. I wore a silk gown, embroidered in very many colors, and over this, the scholar's blue silk gown, with the badge of my office embroidered upon breast and back--the figure of a feng-huang--a bird of fire."

"I think he means a phoenix," Jamie added, turning to me for a moment before directing his attention back to the patiently waiting Mr. Willoughby, who began speaking again at once.

(From VOYAGER by Diana Gabaldon, Chapter 24, "Mr. Willoughby's Tale". Copyright© 1994 by Diana Gabaldon. All rights reserved.)
A
feng-huang
is indeed a mythological bird similar to a phoenix.
Here's a
detailed description
of the rigorous training and examination process that candidates for these civil service positions went through. You might have more respect for Yi Tien Cho after you read through it.
I hope you enjoyed these Friday Fun Facts! Look
here
to see all of my Friday Fun Facts blog posts, and please come back next week for more.