Current and Future Projects
Looking for information about Diana Gabaldon's current and future projects? To the best of my knowledge -- and keeping in mind that I have NO inside information whatsoever! -- this is where things stand right now.
(Last updated August 26, 2023)
Here is
what Diana Gabaldon had to say on Twitter
on February 6, 2023:
Well, Book Ten is in progress--but so is the Prequel (about Jamie's parents). On the back-burner (or the horizon, depending which way you're facing...) is Master Raymond and WHAT FRANK KNEW. (Also OUTLANDISH COMPANION, Vol. 3). https://t.co/4VHxusNfqP

— Diana Gabaldon (@Writer_DG) February 6, 2023
1) Book 10 of the OUTLANDER series

Diana Gabaldon began writing Book 10 in September, 2021. It normally takes her 4-5 years to write one of the Big Books, so it will be quite a while before we have any information on when this book might be published. Stay tuned!

2) Brian/Ellen Prequel

Diana Gabaldon is working on a prequel novel (as yet untitled, as far as I know) which will tell the story of Jamie's parents, Brian Fraser and Ellen MacKenzie. In light of the news about a spinoff TV series, BLOOD OF MY BLOOD, based on this book, I'm sure many of you are curious, but we have very little information yet about this book. We don't know how far along Diana is in the writing, or whether she plans to finish the book before they start filming this new TV series. [UPDATE 8/26/2023: No work is currently being done on the spinoff TV series, because of the writer's strike.]

I will post here as soon as we find out more.

3) Master Raymond book

Diana has said for years that she intends to tell the story of Master Raymond, the first of the time-travelers, but that will probably have to wait until the main series is complete. She is not currently working on this book.

4) WHAT FRANK KNEW book

Diana also intends (eventually!) to tell the story of "what Frank knew". She confirmed on Twitter on February 8, 2023, that WHAT FRANK KNEW will be the title of the book.


That _is_ the title...😊 https://t.co/XMx0jT6Qav

— Diana Gabaldon (@Writer_DG) February 9, 2023
We don't know yet precisely what will be included in this book, but some possibilities include: What convinced him that Claire was telling the truth about the time-travel? Did he find evidence of Claire or Bree in the past?
5) THE OUTLANDISH COMPANION, Volume 3
There will (eventually) be a third volume of the OUTLANDISH COMPANION, covering books 9, 10, and probably other things. Diana is collecting things to put in it, but she's not actively working on this book yet.
6) THE BLACK CHAMBER (Lord John novel)
We know very little about this book so far. It will probably include the story of how Lord John and Isobel's relationship developed, as well as how John became involved in working for England's Black Chamber.
7) THE CANNIBAL'S ART (non-fiction)
Diana has talked for many years about eventually publishing a book about writing (the title comes from a conversation between Jamie and Lord John in VOYAGER) but we have no idea when she might start actively working on it. Probably not until the main series is finished.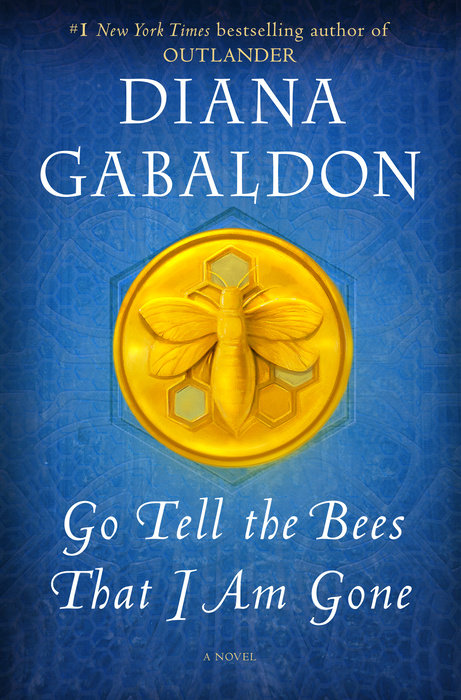 8) BEES mass-market paperback
Finally, because a number of people have been asking about this: No date has been announced yet for the publication of the mass-market (small size) paperback edition of GO TELL THE BEES THAT I AM GONE in the US and Canada. It should be sometime this year, though. I will post an update when it's available for pre-order.
--------------------
That's all the information I have right now. Please check back later for further updates.