OUTLANDER Links, Part 12: Standing Stones
As an OUTLANDER fan, I can't help but be fascinated by the many ancient stone circles found throughout the world. Before I read Diana Gabaldon's books, I'd heard of Stonehenge, of course, but I had no idea that there were so many other formations of standing stones throughout the UK and elsewhere.

I have never had the opportunity to see any of these places in person. (Still hoping to go to Scotland some day!) If any of you have seen a stone circle, feel free to post here and tell us what it was like.

Here are some pictures and links I've collected about stone circles around the world. Hope you enjoy them!

England



Stonehenge

Here's a recent episode of the PBS program "Nova", called "Secrets of Stonehenge", which explores one theory about the origins and construction of Stonehenge. It's almost an hour long, but pretty interesting, especially when they try to recreate how the ancient builders of Stonehenge managed to move those huge stones over long distances.




Castlerigg, England




The stone circle shown above is known as Long Meg and Her Daughters, located near Penrith, Cumbria, England.
For those of you who have read "A Leaf on the Wind of All Hallows": I wonder if this might have been where Jerry MacKenzie's plane went down in October, 1941. It's in more or less the right location, it's unmistakably a stone circle, and it's clearly visible from the air. Just speculating, of course, but it works for me. <g>

Scotland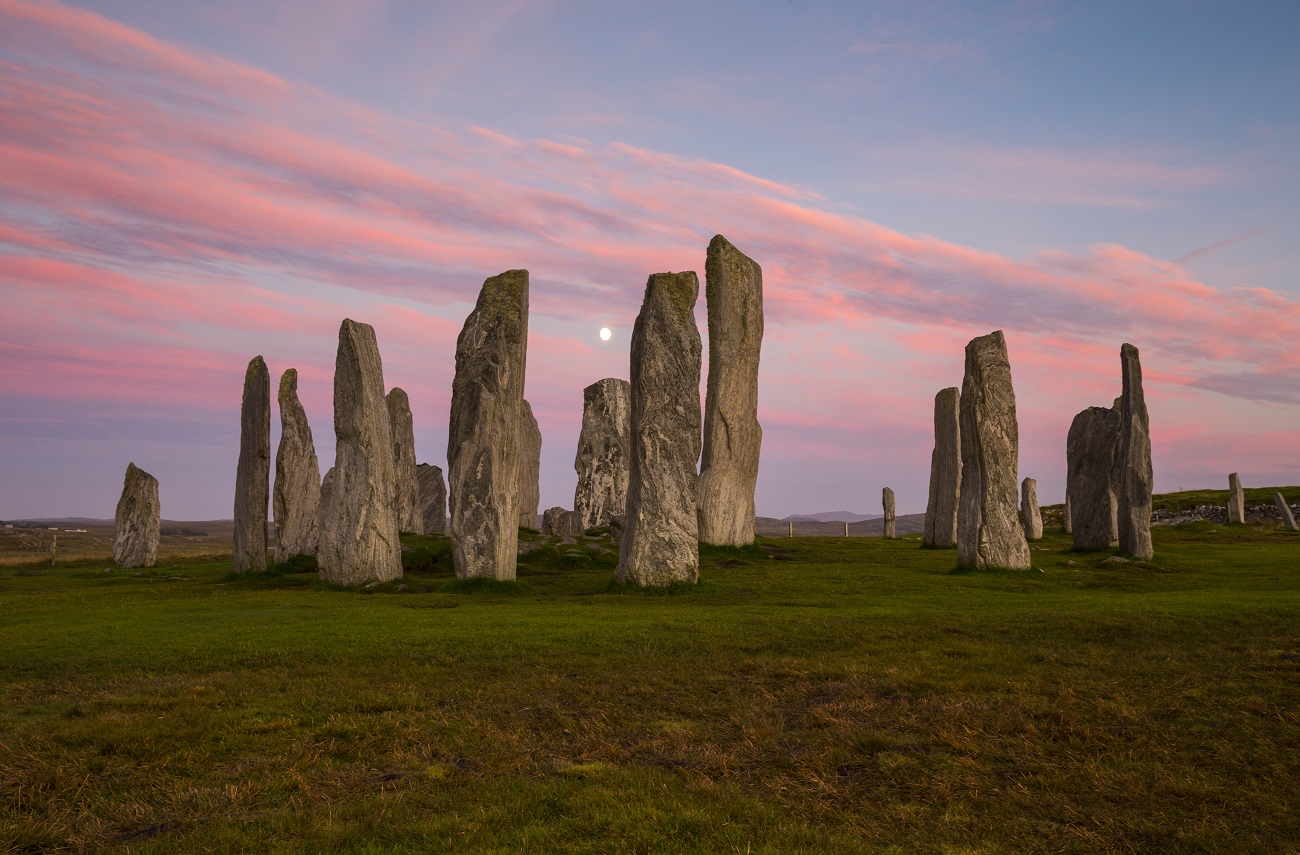 Callanish, Isle of Lewis, Scotland. The logo for my blog shows another view of the Callanish stones. I think they're beautiful, in an eerie and mysterious sort of way. <g> And the closest thing I've ever seen to what I imagine Craigh na Dun might look like.





Clava Cairns, Scotland

This picture reminds me of Claire's reaction when she visits Corrimony Cairn, where General Simon Fraser will be buried.

No buzzing, no screaming, no sensation at all. It was just a rock. After all, I thought, there was no reason why all standing stones should be assumed to mark time portals. Presumably the ancient builders had used stones to mark any place of significance— and surely a cairn like this one must have been significant. I wondered what sort of man--or woman, perhaps?--had lain here, leaving no more than an echo of their bones, so much more fragile than the enduring rocks that sheltered them.

(From An Echo in the Bone by Diana Gabaldon, chapter 75 ("Sic Transit Gloria Mundi"). Copyright© 2009 by Diana Gabaldon. All rights reserved.)
Around the World
Drombeg
, County Cork, Ireland
Megaliths of Almendres
, Portugal
Wassu
, Gambia, West Africa
Just for Fun
This collection of
Wild and Wacky Stonehenge Replicas
is good for a laugh. I like "Foamhenge" (pictured below) the best.
More Information
There is a lot more information about stone circles
here
. (Check out their
picture gallery
!)
Here is an
interactive map
showing the location of all the various stone circles and similar formations throught the UK. You can zoom in to see the exact location, as well as pictures of the standing stones.
If you find these links interesting, check out my previous "OUTLANDER Links" blog entries:
OUTLANDER Links, Part 14: 18th Century Clothing
OUTLANDER Links, Part 13: Plants and Herbs
OUTLANDER Links, Part 11: Science and Technology
OUTLANDER Links, Part 10: Weaponry
OUTLANDER Links, Part 9: Historical Events
OUTLANDER Links, Part 8: 18th Century Medicine
OUTLANDER Links, Part VII: Gemstones
OUTLANDER Links, Part VI: Wildlife
OUTLANDER Links, Part V: Castles and Palaces
OUTLANDER Links, Part IV: Native Americans
OUTLANDER Links, Part III: All Things Scottish
OUTLANDER Links, Part II: Colonial North Carolina
OUTLANDER Links, Part I: Culloden
What Do These Things Look Like?