More news about the OUTLANDER TV series
STARZ made a couple of major announcements about the OUTLANDER TV series yesterday: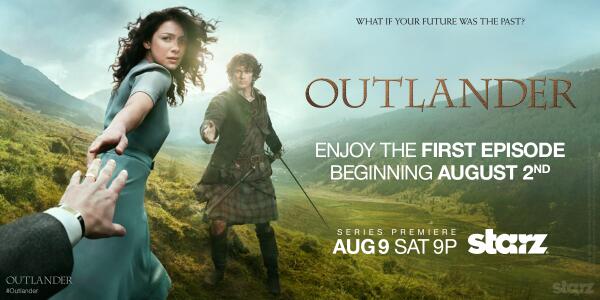 1) If you live in the US, you will be able to see the first episode via STARZ On Demand, the STARZ Play app, and various online sites, starting
August 2, 2014
, a full week before the official STARZ premiere date of August 9, 2014.
From the official STARZ press release:
Approximately 82 million multichannel video households will have access to the premiere episode via additional linear, on-demand and/or online sampling opportunities on select cable, satellite and telco affiliates in the United States as well as online through select websites including Starz.com/Outlander, the Starz "Outlander" Twitter page, the Starz YouTube page, Starz "Outlander" Facebook Page and the free STARZ PLAY app for all users in the United States.
I have no further details at this time.
2) According to that same press release,
the first season of OUTLANDER will be split in half
, with the first eight episodes airing between August 9 and September 27, and the remaining eight episodes to be shown "in early 2015". (No, I don't know anything more specific than that! But "early 2015" means there will be a delay of at least three months, possibly longer, between episodes 8 and 9.)
Speaking as a viewer and a fan, I'm not happy about this decision. But I'm sure it makes sense from a business/marketing point of view. Not only will this delay give them more time to finish the production of those final episodes (ensuring better quality), but it might also encourage some of the viewers who are just encountering OUTLANDER for the first time on TV to read the books during the hiatus and find out what happens next.
Please note, I have absolutely no idea whether this hiatus will also apply to the broadcast of the TV series in Canada or Australia. As far as I know, this announcement is for STARZ in the US only.
Finally, here's one of the new photos released by STARZ yesterday. I like this one very much!
For more information about the OUTLANDER TV series, see my FAQ page
here
.