2017 has been an unforgettable year for OUTLANDER fans all over the world! Here are some of the highlights of the past year:
January 18
- The winners of the
2017 People's Choice Awards
are announced. OUTLANDER won in all four categories where it was nominated!
Favorite TV Show
Favorite Premium Sci-Fi/Fantasy TV Series
Sam Heughan, for Favorite Sci-Fi/Fantasy TV Actor
Caitriona Balfe, for Favorite Sci-Fi/Fantasy TV Actress
You can see the full list of nominees and winners
here
.
February 15
- STARZ announces that Season 3 of OUTLANDER will premiere in September 2017. While many fans were disappointed to hear we'd have such a long #Droughtlander, I was actually relieved, because it meant that for the first time since 2013, I would have the spring and summer free of "thread explosions" on Compuserve. Keeping up with the TV-series discussions while the season is in progress is quite exhausting!
February 18
- Jeff Woodman, narrator of the Lord John audiobooks, shows up unexpectedly on Compuserve, and makes some very interesting
comments
. In particular, I was delighted to see this:
I've retired from audiobook narration, but will continue to do the Lord John books as they emerge because I just LOVE them!
The whole
thread
is worth reading, particularly message number 17, where he goes into some detail about his work. Thanks for stopping by, Jeff!
March 13
- Here are my
ABC's of Brianna
, posted in response to a request from one of my blog readers. Hope you enjoy them! I've done ABC's for
Jamie
,
Claire
, and
Roger
as well. Next year I think I'll add Lord John and Young Ian to that list.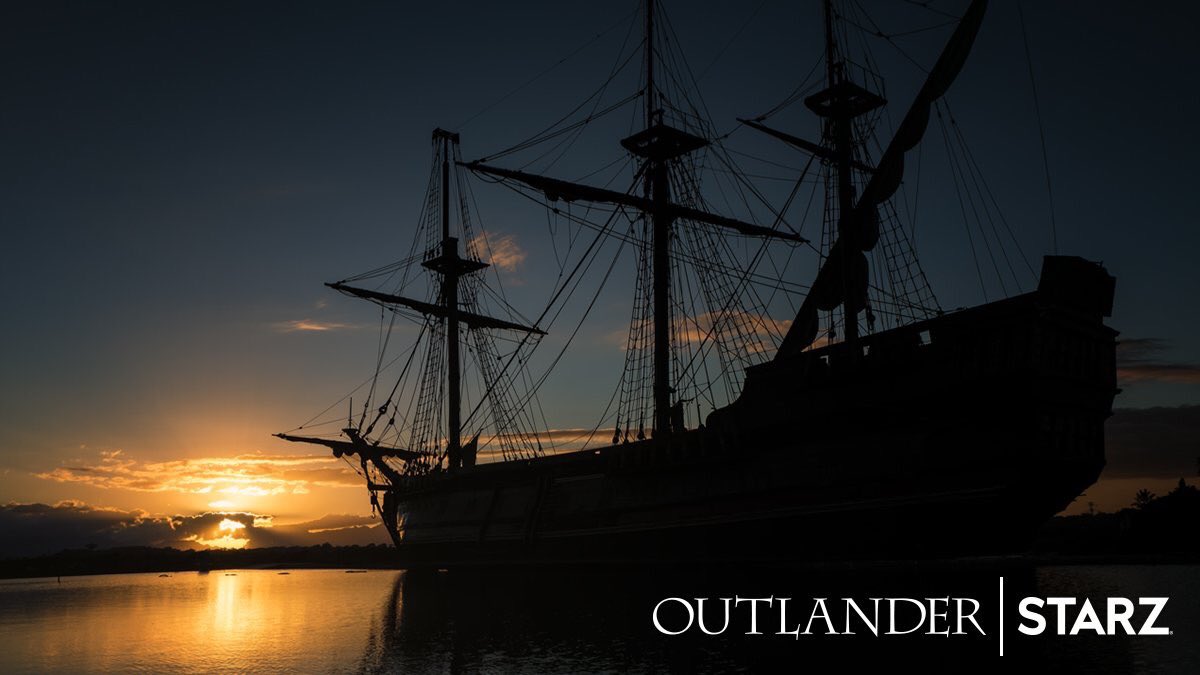 Late March-Early April
- Diana Gabaldon travels to South Africa to visit the set of the OUTLANDER TV series! (For those of you who don't know, the production relocated to Capetown, South Africa, for a few months to film the final episodes, including the seagoing scenes, for Season 3.) Here's
Diana's account of her first day on set
.
April 17
- STARZ releases the
first official trailer
for OUTLANDER Season 3!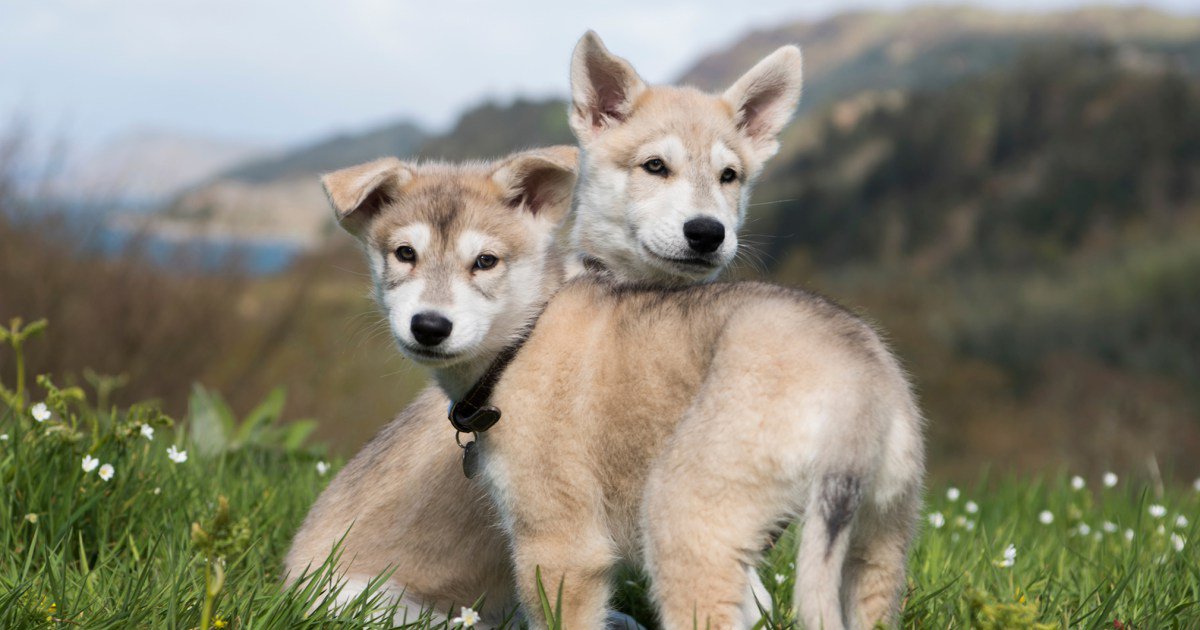 May 1
- We get our first bit of Season 4 casting news: These adorable Northern Inuit puppies will play Rollo! (Details
here
.) For those of you who don't know who Rollo is, or may be wondering why a pair of puppies are important enough to rate their own casting announcement: You'll either have to wait until Season 4 to find out, or read DRUMS OF AUTUMN (book 4 of the OUTLANDER series). But trust me, Rollo is an integral part of the Fraser family! He steals nearly every scene in which he appears in the books, and I'm sure he'll be a hit with the TV viewers, too.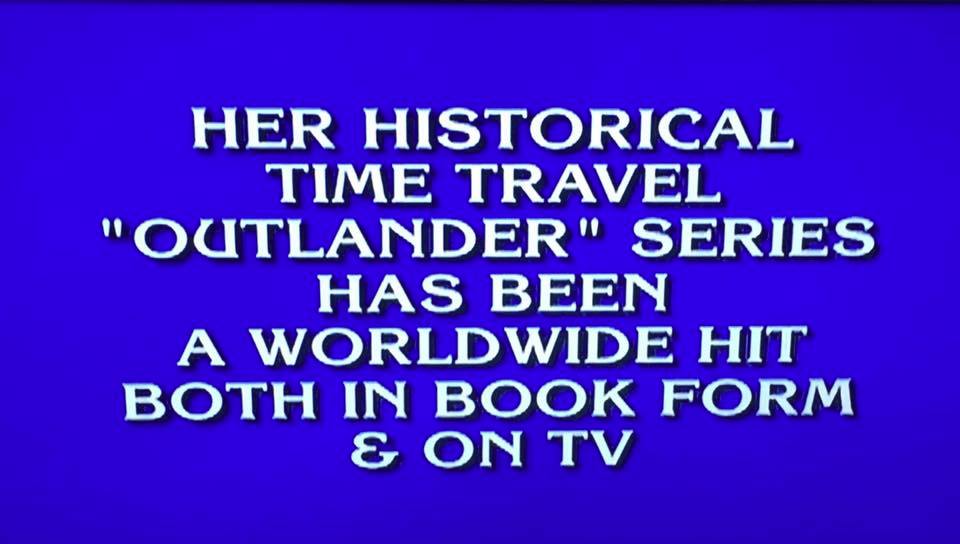 May 3
- OUTLANDER is mentioned on "Jeopardy!" I think that's very cool. <g> In case you're wondering, no, it's
not the first time
.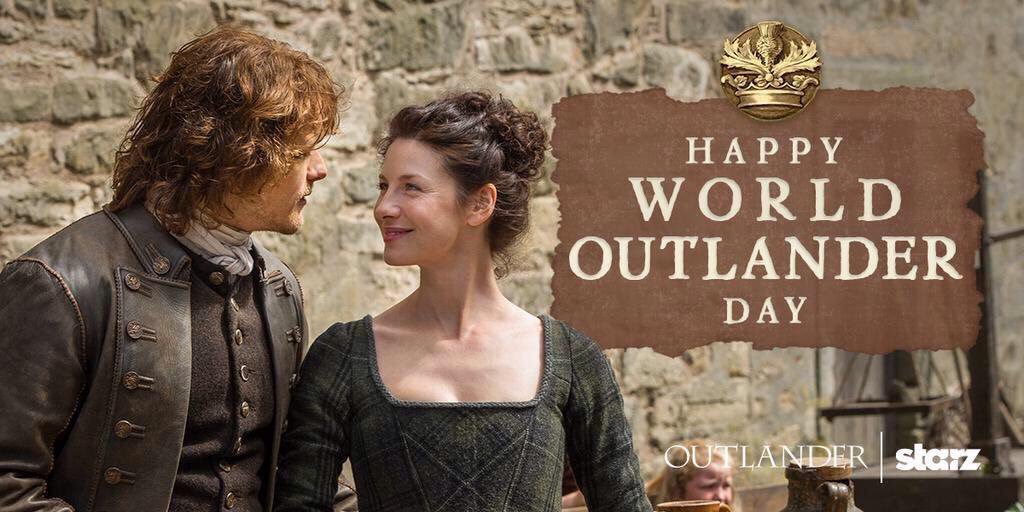 June 1
- Diana Gabaldon's fans all over the world celebrate the 26th anniversary of OUTLANDER's publication in 1991 with the hashtag
#WorldOutlanderDay
. As always, it was a lot of fun.
June 3
- My mom and I visit the newly renovated
American Revolution Museum
in Yorktown, VA (formerly known as the Yorktown Victory Center). You can see a detailed account of our visit, with lots of photos,
here
. We had a wonderful time, and I especially enjoyed the "living history" parts of the museum, with re-enactors in 18th century costume. The photo above shows a re-enactor firing a musket. Highly recommended for OUTLANDER fans!
June 13
- "Past Prologue", a story by Diana Gabaldon and Steve Berry, is published in an anthology called
MATCHUP
, edited by Lee Child. This short story features both Steve Berry's character Cotton Malone, and....Jamie Fraser! For more about how this story came about, see Diana's Facebook page
here
. "Past Prologue" is a terrific story, very entertaining, and if you haven't read it yet, here are a few
reasons why I think you really should
.
June 13
- Good news for UK fans: After a three-year wait, the OUTLANDER TV series will finally be shown on TV in the UK, on the More4 channel. Look
here
for details.
June 16
- Last day of filming on OUTLANDER Season 3!
— Sam Heughan (@SamHeughan) June 16, 2017
For those of you who wish we could have more than 13 episodes per season, please note that Season 3 took almost
ten months
to shoot (from August 21, 2016 to June 16, 2017). The cast and crew deserve a bit of a break! The last thing we want is for the actors to burn out.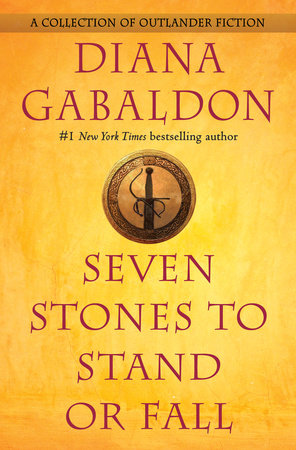 June 27
- Diana Gabaldon's story collection,
SEVEN STONES TO STAND OR FALL
, is published.
I was thrilled to see the following in the Dedication:
This book is dedicated with the greatest respect and gratitude to Karen Henry, Rita Meistrell, Vicki Pack, Sandy Parker, and Mandy Tidwell (collectively known as "the Cadre of Eyeball-Numbing Nitpickery") for their invaluable help in spotting errors, inconsistencies, and assorted rubbish.
Thank you, Diana!!
For more information about SEVEN STONES TO STAND OR FALL, see my FAQ page
here
.
July 19
- Diana Gabaldon announces the
birth of her first grandchild
, a boy named Santiago. Welcome, Santi, and congratulations to Diana, her daughter Jenny, son-in-law Iain, and the rest of the family!
August 15
- The
TV tie-in paperback edition of VOYAGER
is released. Look
here
for more information.
August 28
- My Outlandish Observations blog
turns 9 years old
! Thanks to all of you for your support!
September 10
- I went with my mom to see Diana Gabaldon at the Bookmarks Book Festival in Winston-Salem, NC. We had a wonderful time, and it was great to meet so many OUTLANDER fans!
The highlight of the evening for me, of course, was getting to see Diana, for the first time in more than four years. When she saw me approach, she told the woman assisting her, "She's a friend," and gave me a hug. I thanked her for the wonderful Dedication in SEVEN STONES TO STAND OR FALL (which is quite a thrill for me personally!) and then she signed my copy.
The inscription reads, "To Karen, Expert in Eyeball-Numbing Nitpickery!" This is a reference to the fact that she very generously let me read the stories in this collection before they were published (an honor and a privilege!), and I was able to spot some issues with dates and such that her copy-editor didn't catch.
September 10 - December 10
- OUTLANDER Season 3 airs on STARZ! Here are my Season 3 episode recaps:
Episode 301: The Battle Joined
Episode 302: Surrender
Episode 303: All Debts Paid
Episode 304: Of Lost Things
Episode 305: Freedom & Whisky
Episode 306: A. Malcolm
Episode 307: Crème de Menthe
Episode 308: First Wife
Episode 309: The Doldrums
Episode 310: Heaven and Earth
Episode 311: Uncharted
Episode 312: The Bakra
Episode 313: Eye of the Storm
— Maril Davis (@TallShipProds) October 9, 2017
October 9
- Filming begins on OUTLANDER Season 4!
October 11
- STARZ announces two new cast members who will play major roles in OUTLANDER Season 4 (and hopefully in future seasons as well!)
Ed Speleers
will play Stephen Bonnet, and
Maria Doyle Kennedy
will play Jamie's aunt, Jocasta Cameron.
October 24
- A special hardcover
25th Anniversary Edition of DRAGONFLY IN AMBER
is published! This book has the same type of faux-leather binding as the
OUTLANDER 20th Anniversary Edition
that was published in 2011, and it comes with a ribbon bookmark.
Early November
- A major controversy erupts in OUTLANDER fandom when a number of OUTLANDER Facebook pages had their content removed without warning, apparently due to an over-zealous bot called Counterfind, run by Sony. Here's a
post by Diana Gabaldon
from November 11, addressing the situation, and an
article by Matt Carter
that explains the fans' point of view pretty accurately. I was lucky that my Outlandish Observations page was not affected, but I was shocked and very disturbed by what happened. I sincerely hope that never happens again!
November 13
- Compuserve announces the closing of its forums, including the Books and Writers Community where I have been Section Leader (moderator) of Diana Gabaldon's section since 2008. We were all shocked and saddened at the news, but the forum staff immediately began looking for a new online home. (See below.)
November 14
- My
Outlandish Observations Facebook page
now has more than
10,000
followers!!
December 13
- Introducing
TheLitForum.com
! This is the new home of the former Compuserve Books and Writers Community. TheLitForum.com is a community of readers, writers, book-lovers, and fans of All Things OUTLANDER (Diana Gabaldon is there most days, participating in the discussions and answering questions), and we invite you to come and check it out!
Reaction to the new forum has been overwhelmingly positive so far, and I am both delighted and vastly relieved that the transition went smoothly. It's been only a little more than two weeks since the new site went live, and already we have more than 1200 members, and well over 7000 posts. What a wonderful way to close out 2017!
------------
This has been an amazing, unforgettable year for OUTLANDER fans! I'm delighted to see all the new people who've found their way here in recent months. Thanks to ALL of you who take the time to visit Outlandish Observations, and I wish you all the best in 2018!